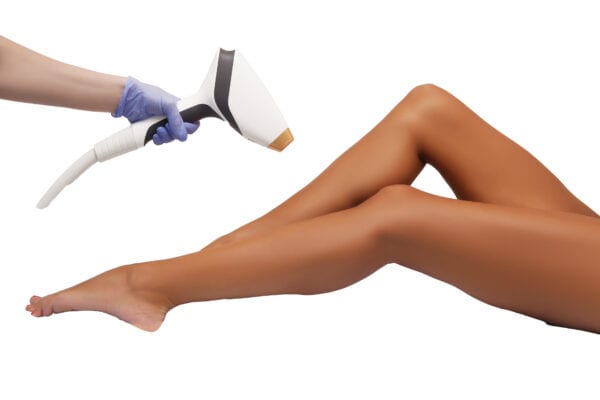 Tired of visiting the salon every 15 days to wax your arms and legs? We have an effective procedure, just for you, to get freedom from unwanted body hair and boost your level of confidence.
Laser hair removal can be carried out on any area including legs, arms, upper lips, chin, and bikini line. It is an innovative cosmetic procedure that is gaining immense popularity due its hassle-free experience, and effective results.
Types Of Laser Hair Removal
If you're looking to undergo the laser hair removal treatment method, you can ask your aesthetician about one of the following types-
Alexandrite Laser Hair Removal
For those with lighter skin tones, this laser hair removal method is the most ideal one. It uses shorter wavelengths of light offering a comparatively less painful experience.

Diode Laser Hair Removal
 This laser hair removal method uses deeper beams of light and is suitable for people with medium or coarse hair.

Ruby Laser Hair Removal
This laser hair removal method is not offered at many clinics, since the technology is obsolete and uses slower beams of light to remove unwanted hair from the body.

Nd and LP Nd Laser Hair Removal
This is a heavy laser hair removal method that is a great option for people with thicker hair. This treatment method has the longest wavelength of light.

IPL
Using light instead of laser, this hair removal treatment method can be adjusted based on your requirement.
Why Is Laser Hair Removal The Best Method?
In addition to being permanent, here are some other great benefits of laser hair removal vs other methods.
Requires no preparation
Can be done in under 45 minutes depending on location and hair amount
Can be done on almost any body part except eyes and tattooed skin
Minimally invasive
Works on the majority of skin types
Doesn't hurt, patients might only feel a very slight pinch or tug
Benefits of Laser Hair Removal
Laser hair removal targets most of the pigment areas in your skin, except the eyelids and any tattooed regions. The main laser hair removal benefit is by removing unwanted hair, and inhibiting rapid hair growth. Besides running your hair through a razor or a painful waxing treatment every now and then, it is better and more convenient to go through a painless way to make your skin look and feel flawless.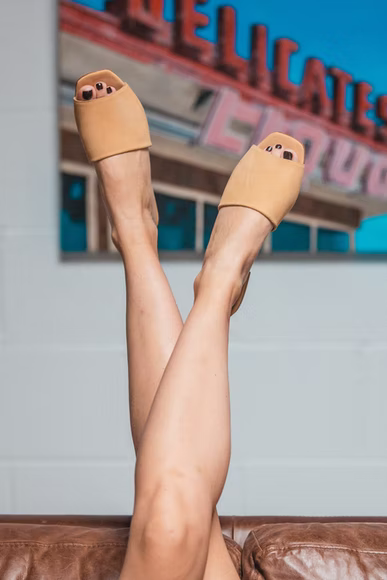 There are a handful of prominent laser hair removal benefits over other methods which prove why treatment offers the most convenient solution for unwanted hair,
Targeted Treatment:

Using a laser helps to target coarse and dark body hair precisely, without the risk of damaging the surrounding skin.

Extensive Coverage with Minimal Effort:
In a second, the pulse from the laser can target a lot of hair follicles. Thus, the time taken to perform a single session over a relatively vast area of skin is quite less.
Reliable:

The results of laser hair removal are mostly predictable and promising for the majority of patients who undergo the same.

Brings You Confidence and Comfort:

For some people, unwanted body hair can be a major deterrent to their confidence and can stop them from undertaking many activities. Thus, permanent hair removal through lasers can prove to be a revolutionary change for those who need it most.
So now that you're convinced about how this procedure is conducted, the next section can help you understand what to expect before undergoing the treatment.
Side Effects of Laser Hair Removal
Depending on skin type, the colour of hair, and tolerance to the treatment, the results can vary and pose mild to moderate laser hair removal side effects. Some of the common issues emerging after permanent hair removal are rather easy to treat with the right guidance.
It might cause swelling, redness and a little irritation in the treatment area. However, these laser hair removal side effects are most likely to disappear after a few hours of the treatment
The target area can have slight discolouration. It might become darker or lighter in comparison to the rest of the skin
If you tend to scar easily, LHR can cause a few marks here and there
It can also cause skin blisters and crusting
However, these laser hair removal side effects are most likely to disappear after a few hours of the treatment.
Things To Do Before Getting Laser Hair Removal
Unlike waxing and threading hair which can be performed by just about anyone who knows the trick, laser treatment for hair removal involves the use of high-grade machinery and requires expertise from the professional performing the procedure.
There are a few things to take care of before you attend your first laser session. Observing these practices will help your dermatologist achieve better results.
Fix a consultation with your Bodycraft aesthetician to understand your skin type and needs. Your medical history will be studied to determine the best possible outcome for you
Always use sunscreen before and after the treatment. Sun exposure should be avoided or limited to absolutely necessary
Depending on your skin type and condition, your doctor may make a suggestion to use a certain cream
A few weeks before the treatment, stop using hair removal methods such as plucking and waxing, which pluck out the hair from its root. These methods may disturb the outcome of the present laser hair removal treatment
If you consume any medicines, make sure that you bring them to the notice of your doctor. Depending on the same, you may be asked to stop consuming certain medicines before the treatment
It may take up to several sessions to achieve the desired results for permanent hair removal. At Bodycraft, we recommend up to 4 to 6 sessions to witness optimum results. The treatment may be repeated within a gap of 4 to 12 weeks depending on hair growth.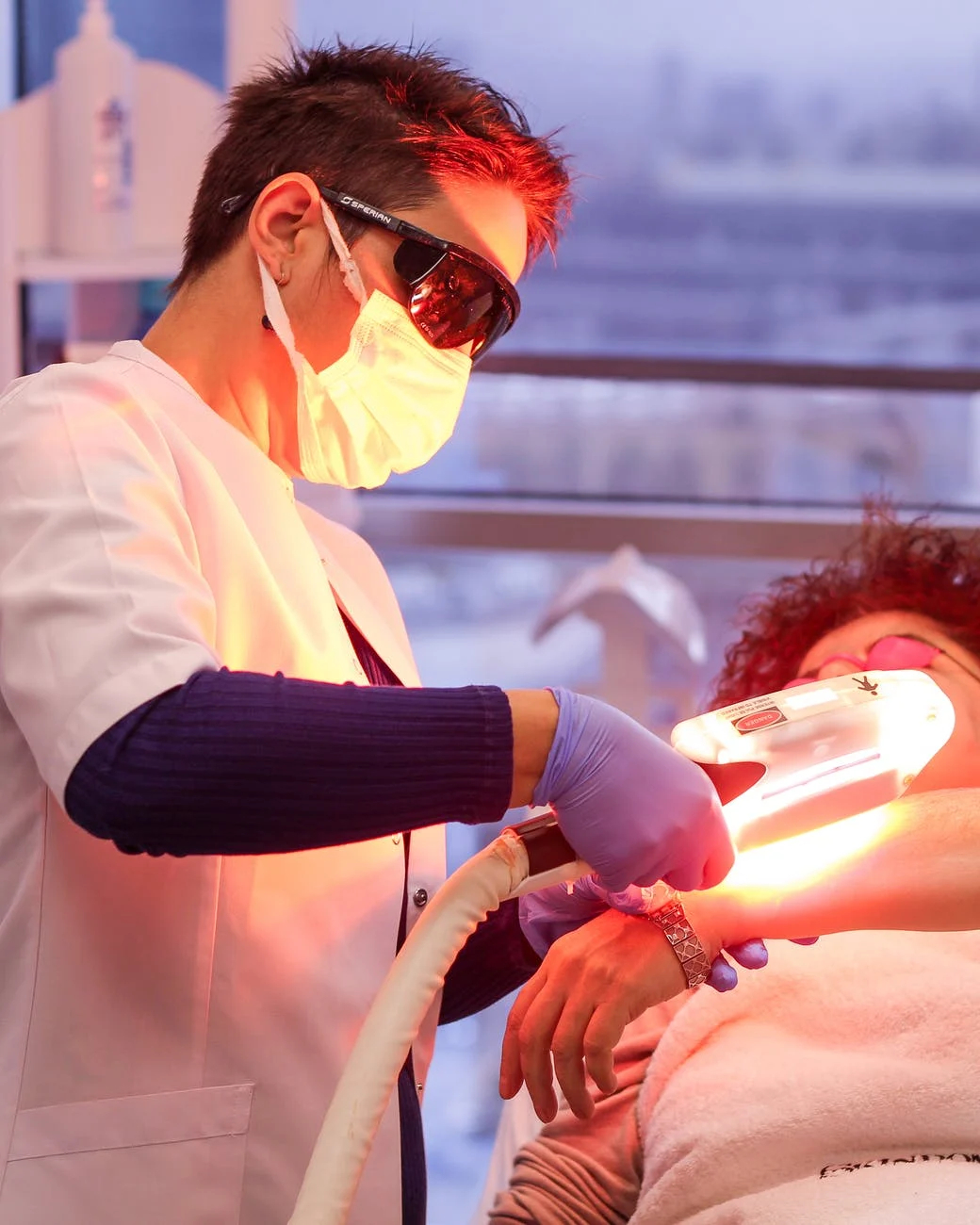 Things To Expect During Laser Hair Removal
Before you undergo the laser hair removal treatment, we offer a complimentary underarm Laser Hair Reduction trial session to assess the effectiveness and gauge your comfort during the service. After this, we continue with the laser hair reduction treatment. This is how laser hair reduction works.
A cleanser/moisturiser is applied to the area which is to be shaved in order to prevent the experience of a burning sensation
Once the hair is shaved and excess hair is dusted, the aesthetician marks out grids on the treatment area indicating sections that will receive the Laser Hair Removal treatment
We offer you eye protection while also maintaining the laser frequency according to the location of the target area, thickness and colour to minimise side effects as much as possible
A cold gel is applied over the treatment area which enables the aesthetician to sweep the LHR handpiece across the area with ease and also prevents the laser from burning the skin
After the area has been treated, the gel is removed and the area is wiped clean. Once the complete session is done, a moisturiser and sunblock is applied
The first session will cause the maximum number of sessions with the duration ranging over a few minutes to an hour.
Things To Do After Laser Hair Removal
The burnt hair follicles will take around weeks to fully shed. You might see continued growth for days before it falls out gradually. The results can vary depending on the target area and thickness of the hair.
Typically, you should expect to go through the following instances after going through the laser hair removal treatment:
The target area may look and feel like it is sunburned for a day or two. If you happen to experience this, use cool compressions and moisturisers on the affected area




Over the next month, the hair in the treated areas will fall out. Avoid sunbathing and exposure to the sun




Wearing sunscreen or sunblock is mandatory to prevent temporary changes in the colour of the treated skin as the skin will be sensitive




Do not go to the gym, use saunas or steam or have hot showers for 24 hours after the Laser Hair Removal treatment
When To Schedule Your Next Treatment Session?
Your next laser hair reduction appointment can be scheduled 4-6 weeks after your first session. By that time, the rate of your in-growth hair will slow down just a little bit. Frequent sessions ensure that laser treatment for hair removal side effects is less, and any risks are highlighted and curbed immediately.
 

 

View this post on Instagram