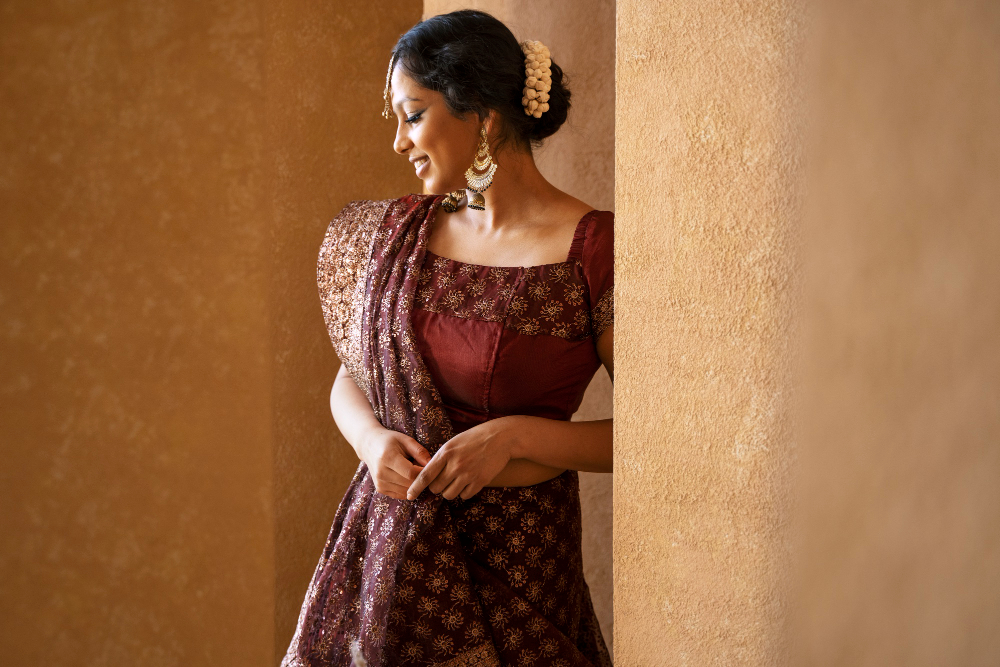 Looking for some South Indian makeup inspo for your big day? We have got your back, bride-to-be.
The southern states of India have given birth to some of the most stunning bridal looks. From the majestic Andhra Pradesh brides to the graceful Karnataka brides, South Indian weddings are a treasure trove of unique makeup inspirations. So let's delve into the 8 of the most stunning South Indian bridal makeup looks we have handpicked for you.
Bridal Inspo: 8 Stunning South Indian Makeup Looks
From intricate details to vibrant colours, get ready to be inspired by the stunning artistry that graces South Indian brides. Here are 8 captivating South Indian bridal makeup looks:
1. Traditional South Indian Bridal Makeup
A perfect complexion, striking eyes, and bright lips are the hallmarks of the traditional South Indian bride. This look can be achieved using a flawless base, kohl-rimmed eyes, and a deep lip colour that complements the bride's outfit. A bindi and beautiful gold jewellery that highlights the bride's features complete the makeup. You can put your hair in a low bun or do a half updo with the ends of your tresses in loose tousled curls.
 

 

View this post on Instagram

 
2. Smokey Eye Glam Makeup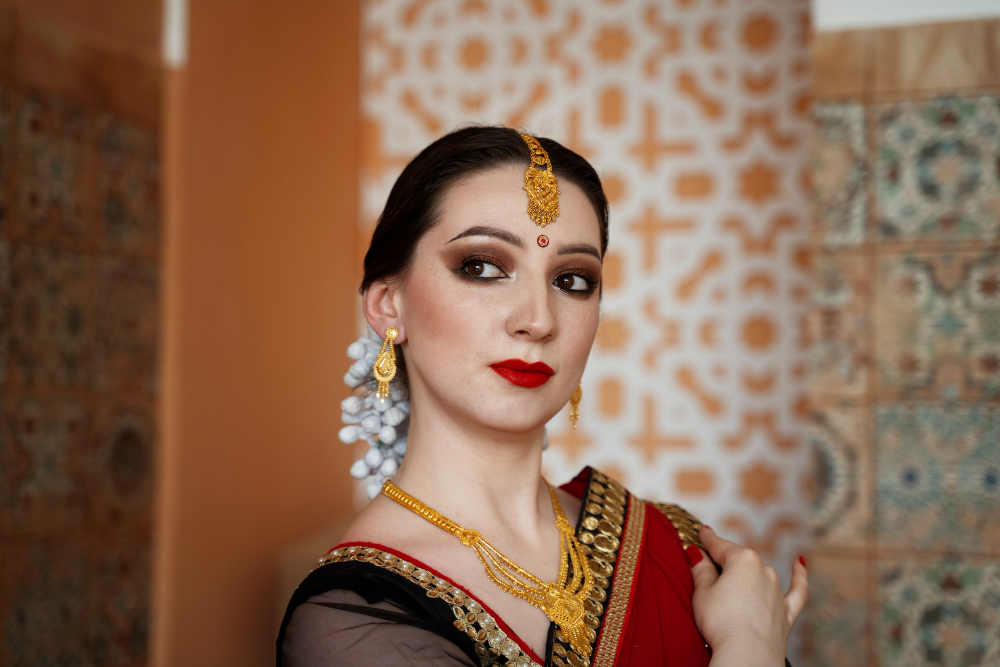 If you're a bride looking for a South Indian eye makeup inspiration, this look is the right pick for you. This smokey eye glam makeup is a perfect choice for brides who want to make a statement. Dark eyeshadow is smoothly layered with lighter tones in this sensual beauty look to add depth and dimension. Paired with a soft nude lip or a dark rich shade, this South Indian makeup look is both alluring and sophisticated.
3. Colourful and Bold South Indian Makeup Look
This colourful South Indian makeup look is the one for brides who enjoy experimenting with colours. This look includes dramatic winged eyeliner, thick lashes, and bright, bold eyeshadow colours that go well with the bridal attire. A vivid lip colour ties the look together, creating a stunning look that is sure to turn heads.
4. Retro Glam
Inspired by the timeless beauty of vintage Bollywood, the retro glam makeup look is the one for brides who want to embrace their inner starlet. This look features a bright red lip that emanates old-world charm, dramatic fake lashes, and winged eyeliner. Complete the look with a vintage-inspired hairstyle and dramatic jewellery for a truly glamorous South Indian bridal makeup look.
5. Subtle and Natural South Indian Makeup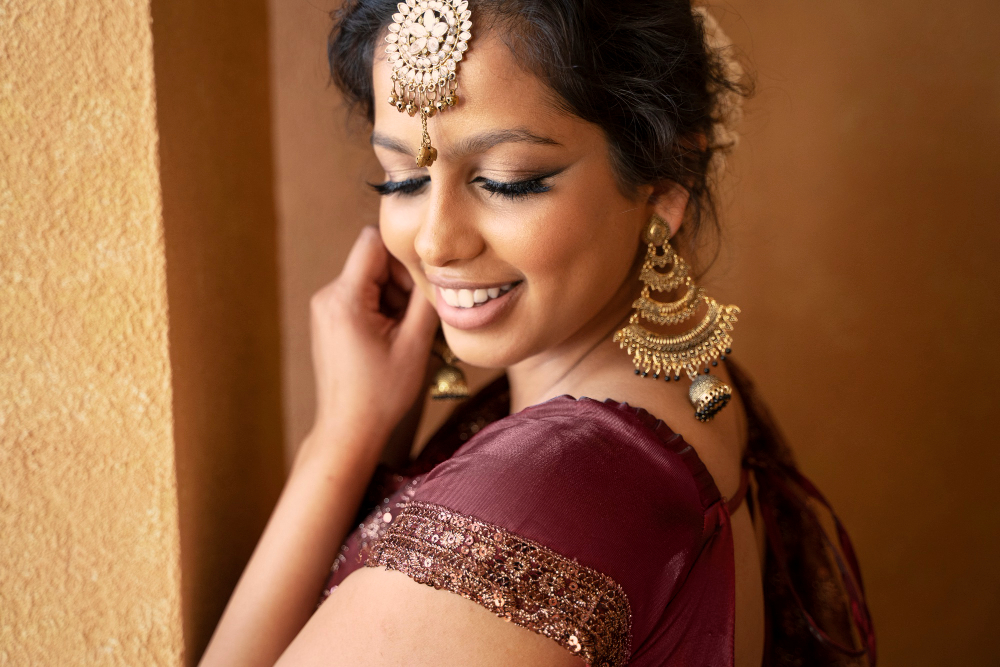 This delicate and natural makeup look is perfect for brides who prefer a more subtle appearance. The bride's features are highlighted without being overdone with a natural lip colour, a little touch of kohl, and soft, neutral eyeshadow hues. Complete the look with any hairstyle that goes well with your overall styling. The end outcome is a fresh, bright complexion that exudes timeless beauty.
6. Golden Goddess
Shimmer and shine are the focal points of this South Indian bridal makeup style. A glowing base, metallic gold eyeshadow, and a hint of highlighter on the cheekbones, nose, and cupid's bow are the essentials of the golden goddess makeup look. Finished with striking glossy red lipstick, this stunning makeup look is ideal for brides who want to stand out on their wedding day.
 

 

View this post on Instagram

 
7. Monochromatic Elegance
If you want a stylish and contemporary South Indian makeup look, consider using a monochromatic colour scheme. This contemporary style harmoniously blends eyeshadow, blush, and lip colours in the same hue, resulting in an effortlessly elegant appearance. The beauty of the monochromatic look lies in its versatility, allowing you to tailor it to your preferences, whether you desire a subtle and understated allure or a striking and bold statement. 
8. Dewy and Radiant
The dewy and bright makeup look is ideal for brides who wish to attain a luminous, ethereal appearance. This makeup look combines a glowing base, light-reflecting highlighter, and delicate, sparkling eyeshadow colours. The final touch is a glossy lip colour, bringing forth a soft appeal that perfectly complements your fairy tale wedding. 
The Takeaway
Your wedding is a once-in-a-lifetime moment, and Bodycraft can help you look and feel your best. Book an appointment with Bodycraft and embrace your individuality to bring your bridal look to life. Don't forget to check out the exciting offers we have for you.