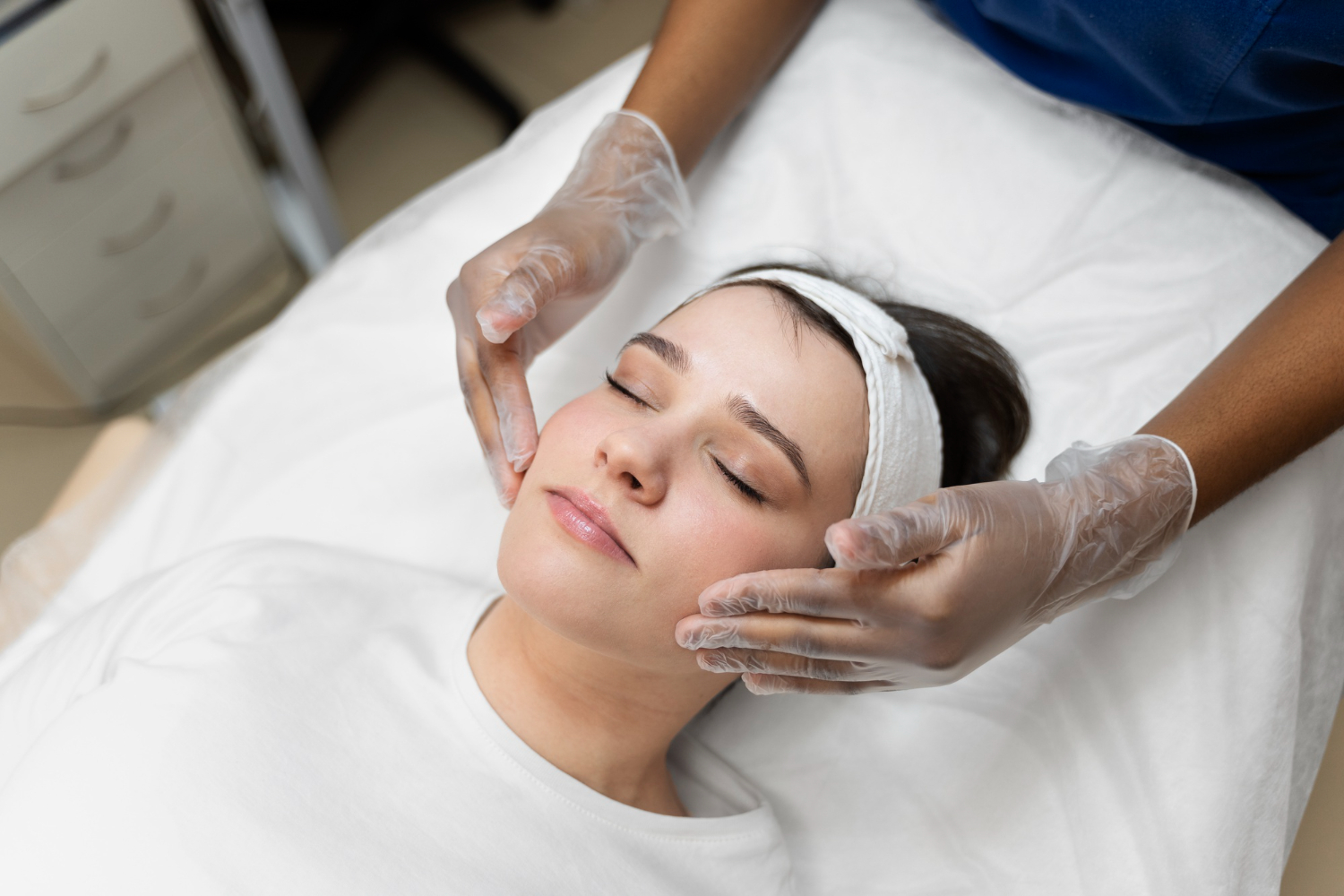 During wedding preparation, there are so many things to think about. From the decor and the photography to the catering and music, the list seems endless. Amidst the flurry of preparations, one thing deserves your undivided attention – your skin. As the star of the show, your radiant complexion should reflect the joy and love that fill the air on your special day. 
In this blog, our expert dermatologists recommend a few pre-bridal skin treatments that you should consider before your wedding to ensure you shine with unparalleled radiance.
Different Pre-Bridal Skin Care Treatments To Consider
1. Hydra-Medi Facial
A combination of hydration and medical-grade exfoliation, the Hydra-Medi Facial is a powerhouse treatment that cleanses, exfoliates, extracts impurities and infuses nourishing serums into your skin. This ensures a dewy, plump complexion that serves as the perfect canvas for your bridal makeup. 
It uses a specialised machine to deliver a customised blend of serums and nourishing solutions directly to your skin, leaving it fresh, and rejuvenated. It can address a wide range of skincare concerns, such as acne, hyperpigmentation, and fine lines, making it an excellent choice for brides looking to achieve a flawless wedding day complexion.
 

 

View this post on Instagram

 
2. Chemical Peel
Chemical peels are tailored to address various skin concerns, from acne marks to uneven pigmentation. By removing the top layer of dead skin cells, a chemical peel reveals fresher, more youthful skin beneath, leaving you with a renewed and radiant glow. 
This treatment involves applying a chemical solution to the face, which helps to loosen the bond holding dead skin cells and stimulate healthy skin cells to come to the surface. Chemical peels come in different strengths, including superficial, medium, and deep peels, allowing for customisation based on your skin concerns and desired results. 
 

 

View this post on Instagram

 
3. Glutathione
To achieve that lit-from-within bridal glow, many brides are turning to glutathione injections for pre-bridal skin treatments. Glutathione is often referred to as the "master antioxidant," and is administered intravenously to brighten and rejuvenate your skin from within. This treatment can lighten pigmentation, reduce blemishes, and give you a luminous complexion that's sure to turn heads. 
However, it's important to get this treatment done in a professional and reputed clinic. Bodycraft Clinic uses US FDA products and safe procedures in a completely sterile environment. Book an appointment with us today for a free consultation with one of our experts to guide you through the process. 
4. Microneedling with Dermapen
Microneedling with Dermapen is a highly effective treatment to address a multitude of common skincare concerns, including fine lines, acne scars, uneven skin texture, and even stretch marks. This innovative dermapen microneedling treatment involves creating controlled micro-injuries in the skin using a fine-tipped pen. This stimulates collagen production and enhances the absorption of skincare products, leaving your skin smoother, firmer, and more radiant.
Microneedling can be performed on the face, neck, décolletage, and other areas of the body. It is recommended to book a series of treatments over a few months for optimal results. Take note that there may be some downtime associated with this treatment, so plan accordingly when scheduling it before your wedding day.
 

 

View this post on Instagram

 
5. Q-Switch Laser
The Q-switch laser technique is a groundbreaking method employing a laser to generate intense beams in extremely brief bursts. These pulses effectively disintegrate pigments within the skin, which are then naturally eliminated by the body.
Anticipate that the Q-switch laser procedure will tackle imbalanced skin pigmentation, while also aiding in the reduction or elimination of pigment-related issues and traces of acne scars. This treatment can be applied to various body regions, encompassing the facial area, neck, chest, and back.
 

 

View this post on Instagram

 
6. Salon Pre-Bridal Packages
Many salons offer comprehensive pre-bridal packages that include a combination of facials, body treatments, and relaxation therapies. These packages are designed to pamper you while addressing your skin's specific needs in the lead-up to your wedding day. 
Takeaway
Your wedding day marks the beginning of a new chapter in your life, and you deserve to look and feel your absolute best. Planning for your skin's radiance should be an integral part of your wedding preparations and you should follow a consistent pre bridal skincare routine to maintain your bridal look. Consulting with a dermatologist well in advance will help you tailor a pre-bridal skincare regimen that suits your skin type, concerns, and timeline. Book an appointment here.
FAQs
1. What skin treatment is necessary for pre-bridal?
Pre-bridal skin treatments vary based on individual skin needs, but common recommendations include facials, chemical peels, and hydrating treatments to ensure your skin is radiant and well-hydrated on your big day.
2. What is body polishing for the bride?
Body polishing, also known as body exfoliation, involves scrubbing away dead skin cells to reveal smoother and more even-toned skin. It's a popular pre-bridal treatment for brides who want their skin to feel as flawless as their face.
3. Which is the best bridal facial?
The best facial for a bride depends on her skin type and concerns. Hydrating facials, oxygen facials, and LED light therapy facials are often recommended to enhance the skin's radiance and clarity. For optimal results, we suggest scheduling a facial at bridal salon at least two days before your wedding, as the treatment may leave your pores open, increasing the risk of makeup clogging.
4. What is the pre-bridal routine?
A pre-bridal skincare routine typically involves a series of treatments spaced out over several months leading up to the wedding day. This could include monthly facials, chemical peels, and body treatments, as well as a consistent at-home skincare regimen.