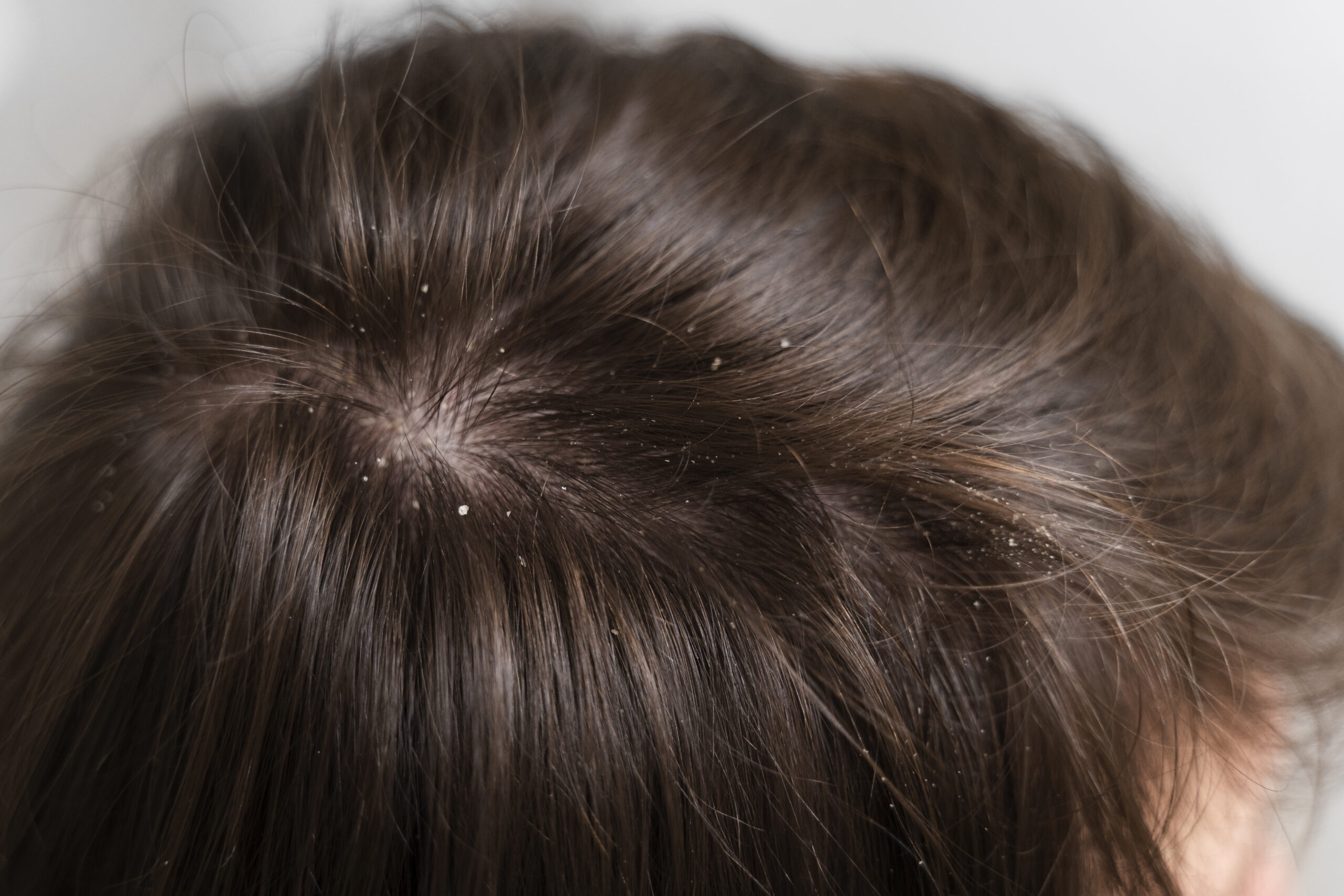 Do you avoid wearing black tops just to avoid the look of tiny dandruff flakes coating your shoulders? It might feel like you're the only one, but dandruff is a common issue that affects many people, and it can be particularly frustrating for those with dry hair. With the right dry hair care routine, you can get rid of dandruff and say goodbye to those embarrassing flakes for good.If you're searching for how to remove dandruff? In this article we're going to discuss the solution for dandruff with hair care products and dandruff treatment options that actively curb dandruff and dryness, keeping your hair healthy and nourished.
What Causes Dandruff?
Wondering how to get rid of dandruff in winter? Before that, it is important for you to understand what causes dandruff in the first place.
If you notice your scalp and skin becoming more itchy than usual, you probably have dandruff. Appearing as flakes or dead skin, dandruff is usually treated at the salon on the scalp. It can also form on your eyebrows, armpits and even chest hair. Dandruff in winter is caused because of the following reasons.
Dryness of the skin.
Eczema.
Malassezia or the extreme turnover of new skin cells.
Stress causes more dandruff in winter.
Deficiency in vitamin B and zinc.
Frequency of washing your hair.
Every individual has a different case of dandruff. For some the frequency is less while in others, it keeps coming up even after trying all the tried and tested dandruff treatment options. How do you find out if you have dandruff?
Signs of Dandruff in Hair
Wondering what are the tell-tale signs of dandruff in winter? Look out for the following.
Itchy scalp and skin.
Red bumps on the scalp.
Dull-looking hair.
More hair fall than usual.
Now that you understand dandruff and its causes, it's time to find solutions for dandruff to keep your mane in control. Jump over to the next section to understand how you can keep dandruff in control.
How to Get Rid of Dandruff?
Find ways to know how to get rid of dandruff in hair? Our experts have some great suggestions that you can follow religiously to have a perfect winter, without any hair issues.
1. Use a Shampoo meant for Dandruff
It is important to use hair care products that treat specific hair conditions. Using a regular shampoo on a dandruff-prone scalp is of no use. Our professionals suggest using the System Professional Purifying Shampoo that cleanses hair gently while removing dandruff from the scalp.
It targets dandruff in hair along with oil production, helps in reducing inflammation leading to long-lasting hair results. You can use a coin-sized amount of the product to see desired results on your hair.
2. Increase the Frequency of Washing your Hair
If you have dandruff in winter, you need to change the number of times you wash your hair. Instead of washing it twice a week, change to washing it thrice a week while using a dandruff shampoo for hair at least once.
This ensures that your hair is treated properly, while not becoming too rough during the winter months.
3. Massage your Scalp with a Glycolic Acid Toner
Glycolic Acid is an alpha-hydroxy acid or AHA that is considered to be a gentle exfoliant for the skin. Despite being a holy grail for the skin for years, it has recently started being a rage for hair issues as well, including dandruff, flaky scalp and dehydration.
Take a few drops of Glycolic Acid toner on your palm and apply it onto your scalp. Massage it in circular motions to allow this AHA to penetrate into your hair shafts. This needs to be done 30 minutes before washing your hair. Use it once every week for best results. You can learn more about how Glycolic Acid can help your hair here.
 

 

View this post on Instagram

 
Dandruff Treatment at the Salon
Not sure if home remedies are the best way to treat dandruff in winter? We recommend visiting your nearest Bodycraft Clinic & Salon to get a few dandruff treatments.
1. Go for a Hair Spa every 15 Days
A hair spa is the best dandruff treatment to keep your tresses nourished and healthy during the winter months. Since dandruff, product buildup and lifeless hair can become common issues during the colder months, our experts recommend coming in every 15 days to get a hair spa treatment catering to these winter hair issues.
You can avail the Shampeeling hair spa at Bodycraft to solve all your dandruff woes, Shampeeling treats intense, persistent dandruff and oily/irritated scalps. It helps reduce the overproduction of skin cells and transforms the scalp environment, leaving you with a happy scalp that is healthy and rejuvenated.
2. Get a Hair Fall Reduction Therapy
Over time, dandruff can lead to hair fall by making your hair look and feel dull and lifeless. Hence, if simple home remedies and following a religious hair care routine aren't enough, you can always visit Bodycraft to get a Hair Fall Reduction Therapy administered.
The most common way to restore your hair growth is the GFC treatment. Growth Factor Concentrate, or GFC, is an extremely safe treatment which uses growth factors generated from your blood for the best results in treating hair loss. During the GFC hair loss treatment, the growth factors are administered at the hair root by superficially injecting them directly into the scalp. The GFC treatment helps in reducing hair loss while also promoting hair growth, thickening hair follicles, and increasing hair numbers.
The Takeaway
Keeping winter hair problems at bay requires some good hair care tips. You can follow the above-mentioned ways to find solutions for dandruff. If you need more assistance, book an appointment with us or walk-in to your nearest Bodycraft salon to interact with our professionals.