With a great beard comes greater responsibility. We begin to understand the troubles of maintaining a beard only when we start growing one. And as someone who is attempting to grow a beard, you must know that it requires a complete care solution. We can all agree that a neglected and untamed beard is as bad as no beard at all! A rather ignored but necessary treatment for your beard is a rejuvenating and nourishing Beard Spa. But why do you need a beard spa? Let's find out!
1) For the texture
You know it, I know it, we all know it! Nobody wants a brittle, dry, 'shouldn't-be-allowed-in-public' beard! And that is exactly what you get when you treat your beard like your hair. Regular shampooing is the perfect recipe to ruin your beard. Good thing is that Bodycraft has beard spas to give you the perfect texture and shape and feel with a selection of products by The Man Company.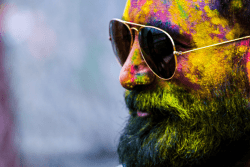 2) For the look
Every guy starts to grow a beard with an image taped to the back of his mind! You know the image! The perfectly shaped and maintained beard on God-like men! As exciting as it sounds, it's equally challenging! While the Beard Spa nourishes your prized possession, professional experts (like Manju at our Lavelle Road branch) would also give your beard the right trim, the right shape, and the right look!
3) For the mind
Nourishment and styling kept aside, much like yourself, your beard needs relaxation too! A stressed and exhausted you leads to nightmares like hair loss and premature greying. A healthy beard requires a calmer you. Beard Spas at Bodycraft pampers and de-stresses you to give you a healthier beard and an alleviated mind.
Trust us, you don't want to experiment with your beard!  Be wise and get consulted on how to take care of your beard!