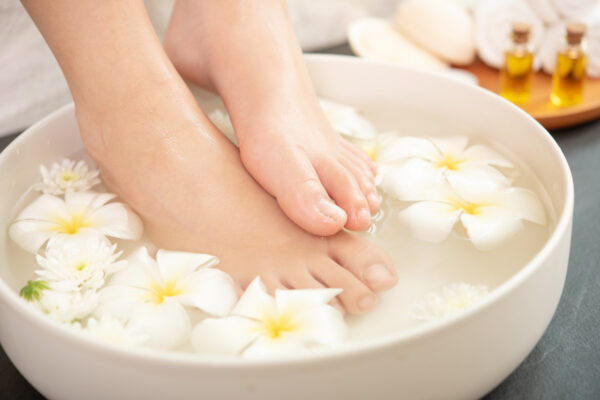 Thinking about getting your first pedicure session? Not only do they leave your feet feeling soft and smooth, but they also help to maintain the overall health of your feet. However, with so many different types of pedicures, it can be confusing to choose the right one for you that fits your budget as well. 
But before we talk about pedicure prices in a parlour, you need to know what exactly a pedicure is and what to expect.
What is a Pedicure?
Whether you're looking to unwind and enhance the appearance of your feet, or address particular foot issues, a pedicure is exactly what you need. A luxurious beauty service, a pedicure focuses on taking care of and maintaining your feet and toenails. 
It is usually carried out by a skilled nail technician at a salon or spa. Your feet are soaked, exfoliated, massaged, and have their nails clipped, shaped, and polished during a pedicure. The procedure seeks to enhance the general well-being, aesthetic appeal, and comfort of your feet.
What to Expect From a Pedicure?
When you book a pedicure appointment, you can anticipate a rejuvenating and indulgent experience. Here's what you can expect during a typical pedicure session:
1. Foot Soaking
Warm water or a foot spa will be used to soak your feet before the treatment to soften the skin.
2. Nail Trimming and Shaping
Your toenails will be trimmed and shaped by the nail technician to the length that you specify.
3. Cuticle care
To encourage strong nail growth, the cuticles around your nails will be pulled back and clipped.
4. Exfoliation
The nail technician will use a pumice stone or an exfoliating scrub to get rid of the dead skin cells and calluses on your foot.
5. Massage
To relieve stress and promote blood circulation, a soothing foot and lower leg massage will be given.
6. Moisturisation
Your feet will be moisturised to maintain the skin hydrated, supple and nourished.
7. Nail Paint
You can choose a nail polish colour and have your nails painted professionally if you'd like.
The Different Types of Pedicures and Their Price
From basic maintenance to premium spa pedicures, the Bodycraft salon has a variety of different types of pedicures catering to every foot concern and need. Our qualified staff, coupled with a relaxing and luxurious ambience, create an exceptional experience that goes beyond mere pampering, ensuring that your feet are treated with the utmost care and expertise. Here are some of the types of pedicures we offer:
Name of the Pedicure

What is it?

Pedicure Cost

First toenail forming

A specialised pedicure for ingrown toenails and irregular nails. It shapes the nail, relieves discomfort, promotes proper growth, and prevents future issues.

₹500 

onwards

Mintree Pedicure

A detox procedure that cools the feet, eases their aches and leaves a revitalising scent to promote relaxation and rejuvenation.

₹1720 onwards

French Treatment Pedicure

Using a natural or soft pink base colour and a white tip on the nails, this elegant and classic pedicure creates a look that never goes out of style.

₹1020 onwards

Footlogix Pedicure

A specially crafted treatment to effectively soothe foot issues dryness, cracked heels, calluses, and fungal infections.

₹1220 onwards

Deluxe Treatment Pedicure

Aims to offer a high level of relaxation so that your feet will feel completely pampered and revived.

₹800 

onwards

Diamond Treatment Pedicure

This type of pedicure gets rid of fine lines and tanning, leaving behind smooth, radiant-looking feet.

₹1150 onwards
Apart from these, we offer many types of pedicures to meet various needs and preferences, guaranteeing that everyone finds the perfect pedicure experience at our salon.
The Takeaway
No matter the type of pedicure you choose to get, the important thing here is to provide your feet with regular attention and care. Pedicures benefits from enhancing the health and beauty of your skin and nails to encouraging relaxation and reducing stress. By giving foot care a high priority, you not only preserve the general health of your feet but also improve your self-care routine as a whole. Investing in regular pedicures can leave you with happy, healthy, and beautiful feet that are ready to step confidently into the world. 
So, book an appointment today and give your feet a pamper-filled treat!
FAQs around types of pedicure with prices
1. What should you not do before a pedicure?
Before a pedicure, avoid shaving your legs and applying lotion to ensure optimal results and prevent potential skin irritation.
2. How often should pedicures be done?
It is advisable to have a gap of 3-4 weeks between each pedicure session to maintain healthy and well-groomed feet.
3. Which type of pedicure is best?
It is recommended to choose the type of pedicure that best suits your needs as well as your budget. At Bodycraft, you can trust us with impressive results, no matter the pedicure you choose.
4. Is getting pedicures good for your feet?
Yes, pedicures are very beneficial for your feet. They help maintain your nail and overall foot hygiene and grooming. This enables you to keep away from common foot issues such as dry skin, calluses, and ingrown toenails.