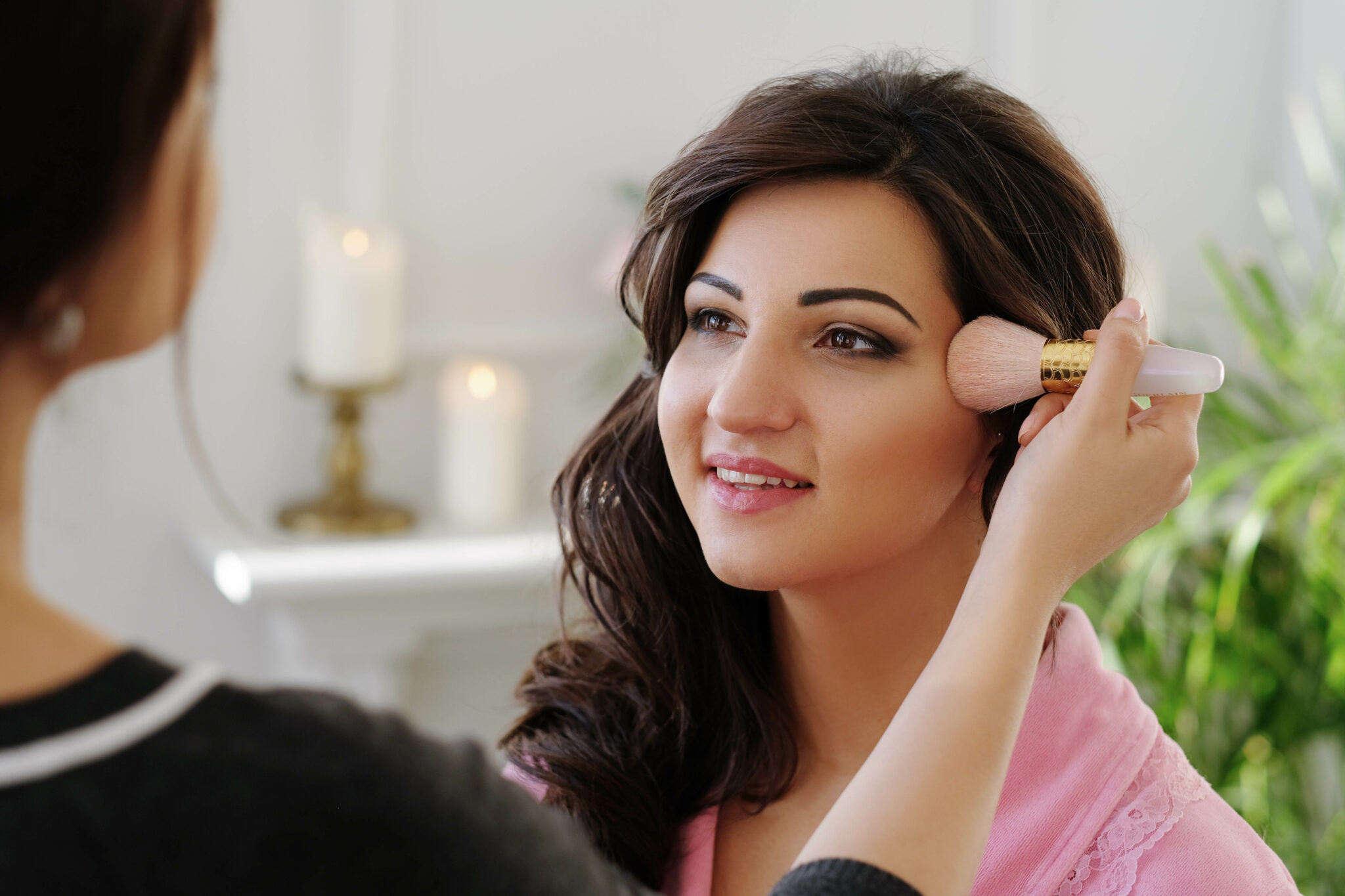 The ultimate wedding day is special for every woman – from the time you were a little girl till the D-day. Every dream and plan comes into action and the need to look your best is most certainly something you're mindful of from the start.
So of course you deserve to have flawless, glowing skin to show just how happy you are for the newest chapter of your life! Hence, we've come up with a pre-bridal skin care routine just for you that will ensure you look your best on your special day.
5 Steps to Follow for Your Pre-Bridal Skincare Routine
The most important tip is to follow this pre-wedding skincare routine consistently in the weeks leading up to your wedding day to achieve a healthy and glowing complexion. 
Step 1: Cleanse and Exfoliate
Start your pre-bridal skincare routine by thoroughly cleansing your face with a gentle cleanser suited for your skin type. Remove all traces of makeup, dirt, and impurities to create a clean canvas for the upcoming steps. Next, exfoliate your skin using an exfoliating cleanser to remove dead skin cells and promote cell turnover. This will leave your skin smooth and radiant.
Step 2: Tone and Balance
After cleansing and exfoliating, use a toner to restore your skin's pH balance and tighten the pores. Choose a toner that suits your skin type and apply it with a cotton pad or by gently patting it onto your face. This step prepares your skin for better absorption of subsequent skincare products.
Step 3: Hydrate and Nourish
To keep your skin hydrated and nourished through your wedding functions, apply a high-quality serum or essence. Look for ingredients like hyaluronic acid, antioxidants, and vitamins that replenish moisture and boost skin health. Gently massage the product into your skin, allowing it to penetrate deeply and provide long-lasting hydration.
Step 4: Targeted Treatments
Focus on specific skin concerns by incorporating targeted treatments into your pre-bridal skincare routine. Whether it's acne, dark spots, or fine lines, choose serums or creams that address your particular needs. Aminu Radiance Face Oil is particularly beneficial for brides-to-be as it strengthens the skin's barrier and helps brighten the skin and reduces the appearance of dark spots. Apply these treatments using gentle upward motions, focusing on areas that require extra attention. Allow the products to absorb fully before moving on to the next step.
Step 5: Moisturise and Protect
Finish your pre-wedding skincare routine with a nourishing moisturiser that suits your skin type. Apply it all over your face and neck, massaging it gently to enhance absorption. Look for a moisturiser with SPF to protect your skin from harmful UV rays during the day. If it's nighttime, opt for a hydrating night cream that aids in skin repair and rejuvenation while you sleep.
Which Pre-Bridal Skin Care Tips Can You Follow?
With a combination of salon and clinic services targeted to different areas of your body, this pre-bridal skincare routine will cater to all your skin concerns in no time. It is advisable to incorporate this skincare routine 6 months before your wedding day to give off a natural glow that will leave everyone idolising your look for days to come.
1. Pre-Bridal Face Prep
 

 

View this post on Instagram

 
It's no surprise that a facial comes to your rescue for radiant skin before your wedding day. Our facial menu has a variety of options for plump, fresh and glowing skin and can also be customised with creams, mudpacks, body scrubs and more depending on your skin's needs.
Additionally, if you want a more effective and long-lasting way to achieve glowing skin, we strongly suggest opting for our Hydra-Medi Facial service. This 3-in-1 service provides oxygenation and nourishment for your skin. It removes dead cells, infuses skin with nourishing ingredients and oxygenates the skin from within using actives for best results. It is one of our most sought after pre-bridal treatments opted for by most women.
 

 

View this post on Instagram

 
2. Pre-Bridal Body Prep
Get your body pumping and ready for all the wedding chores by indulging in one of our full body massage therapies. With tailor-made options made available to make your stress disappear in one session, you are bound to enjoy massage techniques brought to you from around the world. You can choose from Indian and Swedish massages, Stone and Signature Therapies, to name a few and kickback to experience a relaxing time at our salon.
3. Pre-Bridal Nails
 

 

View this post on Instagram

 
You've got to make those nails stand out before wearing a ring to add to the glamour. Dazzle your nails up with your choice of manicure and pedicure options from Bodycraft. Our nail salon ensures you remain spoilt for choice with uber-chic nail options. These include acrylic nails, gel extensions, O.P.I nails, ombre nails etc., that are administered by our best nail technicians in-house.
4. Pre-Bridal Eyebrows
While you can surely get your eyebrows plucked or threaded before your special day, we would like to indulge you in a painless, semi-permanent and effortless way to make your brows well-defined. Treat yourself to a microblading session at your nearest Bodycraft clinic.
 

 

View this post on Instagram

 
By inserting natural pigments in your brow area to make them look fuller and defined, this technique uses 6D microblading technology to make your eyebrows look beautiful. It lasts about 9-12 months and prevents you from going to the salon every 15-20 days to go through a painful threading procedure.
5. Pre-Bridal Lips Prep
Just like your eyebrows, your lips also need to get rid of the excess hair that grows around the area. But is that all you need to do to make your looks luscious on your wedding day? To get a fuller look and achieve the perfect pout in your pictures, we suggest opting for our Lip Filler treatment a few months prior to your D-Day.
These dermal fillers are full of gel-like substances to add volume to your lips and define the contours around the lip line. After a thorough consultation, your doctor will mark the spots on your lips that need fillers. After injecting the solution into your lips, the demarcated areas will be wiped off after 30-45 minutes. Once the recovery period is over, you can notice the subtle change in the way your lips look and enjoy the experience.
The Takeaway
By dedicating time and effort to incorporate these bride-to-be skincare tips, you can ensure a radiant and flawless complexion that will leave you feeling confident and beautiful. Don't forget to relax and pamper yourself with occasional facials, masks, and professional treatments to address specific issues and rejuvenate your skin. To make the most out of your pre-bridal salon visit, you can opt for our pre-bridal treatment package that encompasses a 360-degree plan to care for your skin, hair and more! Book your appointment with us today.
FAQs around pre-bridal skin care routine
1. When to start pre-bridal skincare? 
It is recommended to start a pre-bridal skincare routine at least six months before your wedding day to allow sufficient time for addressing any skin concerns and achieving desired results.
2. What should a bride eat to get glowing skin? 
To achieve glowing skin, a bride should focus on a balanced and nutritious diet consisting of fruits, vegetables, whole grains, lean proteins, and healthy fats, while also staying hydrated by drinking plenty of water. Including foods rich in antioxidants, such as berries and leafy greens, can also contribute to a radiant complexion.
3. What should be included in a pre-bridal package?
A pre-bridal package typically includes services such as skincare treatments, hair styling and treatments, makeup trials, manicures, and pedicures to ensure the bride looks her best on her wedding day. It may also include services like body massages, waxing, and eyebrow shaping for a complete pampering experience.