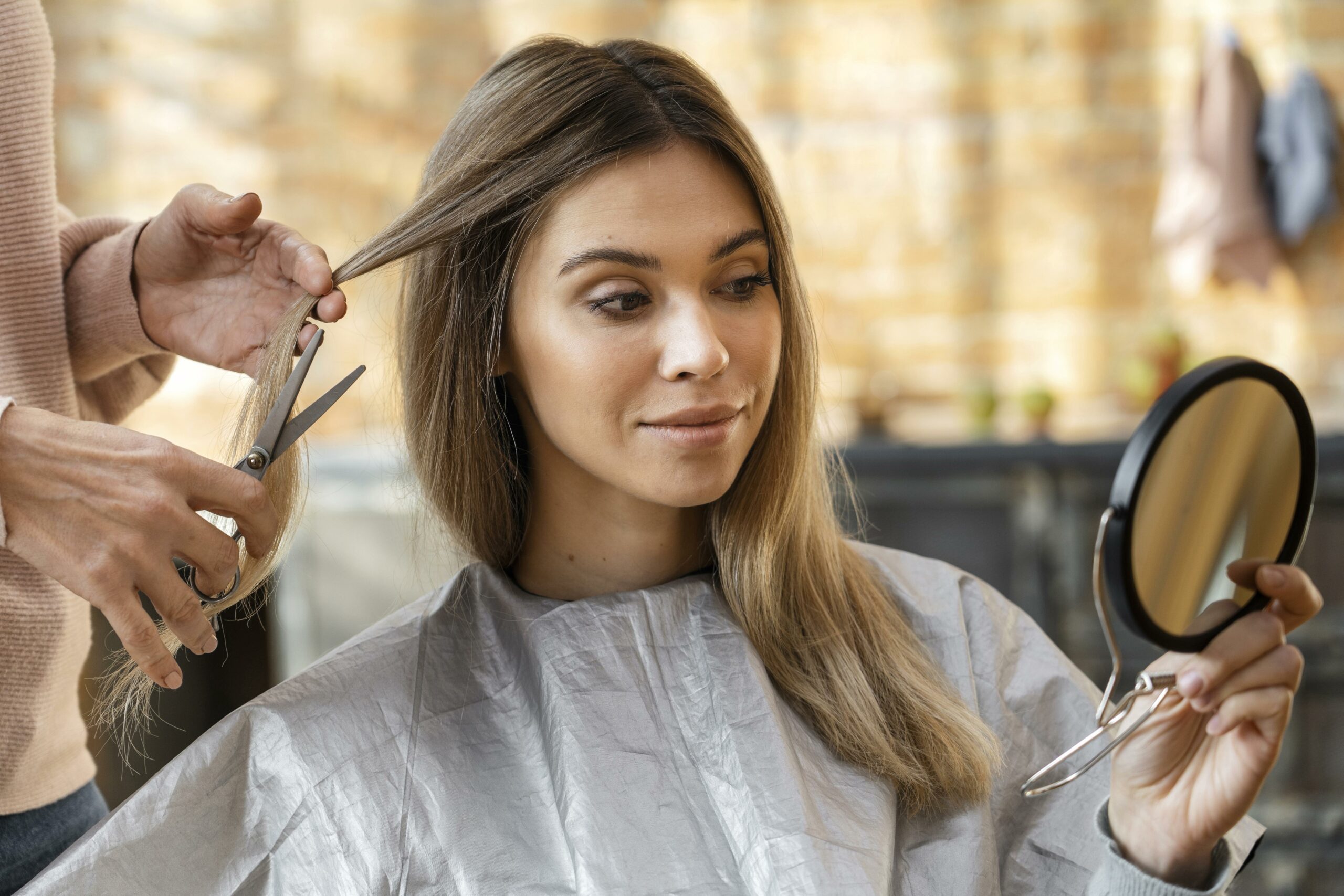 Looking to get a haircut to make your tresses look healthy and gorgeous? We got you! When you visit your nearest Bodycraft salon, you can be assured of getting the best haircuts based on what's trending, your inspired look books and possibly everything you want under the sun!
Our hair stylists can also recommend which type of haircut can suit you based on your face cut. Before getting that trim or transformation, let us help you with some haircut tips that can help keep your mane in check.
Top 5 Pre Haircut Tips
Before visiting your salon to get a haircut, here are some haircut tips for beginners so that you can figure out the best look for yourself.
1. Learn about your Face Shape
Your face shape or face cut plays an important role in determining what kind of haircut suits you.
If you have a round or oval face, bangs and layers can both do you justice. You can also cut your hair short to flaunt a short or long bob.
If you have a square face, shot bobs, lobs, layers and even pixie cuts will suit you.
To understand more about your face shape and which haircut is ideal for you, read more.
2. Know your Hair Texture
You might have straight, wavy or curly hair. Depending on your texture, your hairstylist can determine which haircut is ideal for you. While you might have a haircut in mind inspired by your favourite celebrity, you need to align your expectations with your hair texture. It's unique for everyone and should be flaunted that way too!
3. Choose a Haircut based on your Lifestyle
Are you aware that your lifestyle plays a role in determining your hair health? Dry or healthy, damaged or repaired, long or short – choose a haircut that does not make your hair a distraction for your daily chores.
If you travel a lot and end up tying your hair in a bun or ponytail, you might want to cut your hair short. On the other hand, if you stay indoors mostly, you may want to grow out your hair and just get regular trims at the salon.
4. It's Never just a Trim
You might be going to your salon for a trim advising your stylist on how short or long you want your hair. However, we strongly suggest leaving your hair to the experts. If your locks have split ends or are severely damaged, your stylist will have to cut your hair shorter than what you expected.
5. Get a Haircut When It's Required
It is essential to be mentally prepared to get a haircut. There's no pressure and you should always reconsider getting a haircut if you're presently satisfied with the way your hair looks and feels. But, you should also note when your hair reveals telltale signs of damage.
If you go without a trim for a long duration, your hair can get damaged and consist of split ends which will hamper growth and hair quality. In this case, we recommend sticking to a hair trim every quarter rather than changing your hairstyle entirely.
 

 

View this post on Instagram

 
Top 5 Post Haircut Tips
Now that you've chopped off the weight off your shoulders, it's time to follow some tips for haircuts to ensure that your hair remains healthy for a long period of time.
1. Let your Locks Be
Don't rush into tying your locks up in a ponytail or bun right after a haircut. Let them loose to prevent unwanted waves in your hair.
2. Use Products meant for your Hair Type
It is important to use hair care products that suit your hair type and length. Your stylist might recommend some shampoos and conditioners to keep your locks moisturised after every wash. You can check out our range of haircare products and have your pick for best results.
3. Detangle with a Brush
Using a brush is gentle on your scalp and hair. It helps detangle your tresses without any damage, in comparison to using a wide toothed comb or your fingers.
4. Cover your Hair to Prevent Damage
If you are someone who needs to step out frequently, you need to take extra care in protecting your locks. Wear a scarf or hat if you step out in the sun. Keep your hair tied up so that the UVA and UVB rays do not penetrate inside the hair shaft.
5. Regulate your Diet
The best way to ensure good hair care is by intaking adequate vitamins, minerals and other nutrients in your diet. Keep it balanced by consuming food rich in hair growth supplements. Don't forget to have enough water throughout the day.
The Takeaway
A haircut certainly bids goodbye to damaged tresses and by following our expert-recommended haircut tips religiously, you can help keep your hair healthy and nourished for a long period of time.
Book an appointment with us today or walk-in directly at the Bodycraft salon to get a haircut. While you're at it, you can also avail some additional salon services to pamper your hair on your visit.
 

 

View this post on Instagram