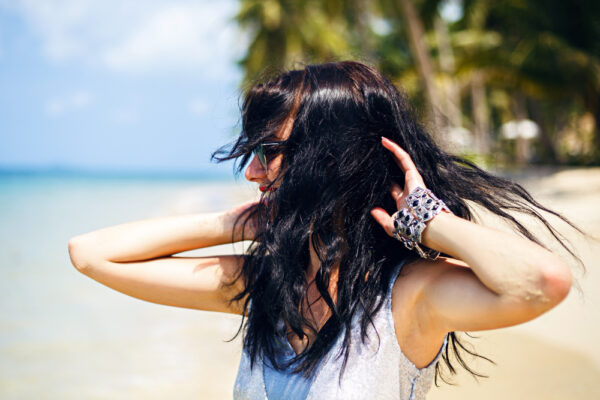 Are you in search of a fresh, fun, and versatile haircut that can transform your look effortlessly? Then, a butterfly haircut is what you need. With its distinct layers and feathered ends that resemble the delicate wings of a butterfly, this haircut is perfect for those who want to add some flair to their hair. This trendy hairstyle has been making waves in the fashion world, and it's time for you to join the fun. So, let's dive into the world of butterfly haircuts, exploring its different variations, suitability for various hair types, and how to style it for a stunning look.
What is a Butterfly Haircut?
The butterfly haircut is a versatile and modern hairstyle featuring distinct layers that create a light and airy appearance reminiscent of butterfly wings. This haircut is characterised by its soft, cascading layers that add volume, movement, and texture to the hair. Its adaptability to various hair lengths and kinds makes it a popular choice among hairstylists and individuals looking for a fresh and fun look.
4 Butterfly Cut Hairstyle Ideas
If you're thinking of going for a new and sophisticated look to have fun with, the butterfly-cut hairstyle is a perfect choice. This unique haircut can be adapted to suit different hair lengths and textures. Here are four ideas to inspire your next haircut:
1. Styling Butterfly Cut for Short Hair
A butterfly haircut with short hair adds volume and movement, creating a chic and stylish look. Opt for shorter layers around the crown to enhance the butterfly effect and frame your face beautifully.
2. Trying Butterfly Hairstyle for Mid-length Hair
The butterfly haircut can add dimension, bounce, and texture to those with mid-length hair. Incorporate long layers throughout your hair, with the shortest layers framing your face to create a soft, cascading effect.
3. Donning Butterfly Haircut on Long Hair
A butterfly haircut with long hair creates a stunning, flowing appearance. To emphasise the butterfly effect and create a look that is both elegant and whimsical, add long, seamless layers throughout your hair.
4. Butterfly Cut Hairstyle for Curly Hair
The butterfly haircut is perfect for curly hair, as it helps define and enhance your natural curls. Opt for layers that follow the shape of your curls, adding volume and bounce to your gorgeous locks.
Is the Butterfly Hairstyle Good for All Hair Types?
One of the remarkable features of the butterfly haircut is its adaptability to different hair types. Whether you have straight, wavy, curly, or coiled hair, this haircut can be tailored to suit your needs. The layers and feathered ends add movement, texture, and volume to all hair types, providing a fresh and stylish look.
However, this cut might not be the best-suiting hairstyle for thin hair as it might make it look more scanty, and thus, face-framing bangs and layers might help in a fake-volume appearance. Whereas for thick hair, this hairdo is an excellent choice for a defined and bulk-less look.
It is always recommended to consult with a professional hairstylist for personalised precision. Expert advice is key to ensuring the butterfly haircut is tailored to suit you best. At the Bodycraft salon, our expert hair stylists guarantee you professional advice and impeccable service for any haircut and hairstyle you want to try with absolute satisfaction. Step into our salon today, and shine through with the best hairdos under the expert care of our dedicated team.
How to Style Your Butterfly Haircut?
Styling the butterfly haircut is easier than you might think. Here are three ways to effortlessly style your butterfly cut and achieve an absolutely fabulous result:
1. How to Style a Butterfly Haircut Using a Blow Dryer
1. To achieve a sleek and polished look, start by applying a heat protectant to your damp hair.
2. Using a round brush, blow-dry your hair in sections, lifting each section at the roots to create volume.
3. For added texture, use a round brush to flick the ends of your hair outwards as you blow-dry.
2. How to Style a Butterfly Haircut Using a Curling Iron?
1. Firstly, apply a heat protectant to your dry hair and section it into manageable pieces.
2. For a more textured and romantic look, grab a curling iron with a medium-sized barrel. Divide your hair into sections and wrap each section around the barrel, and release after holding it for a few seconds. This will create soft waves that accentuate the layers of the butterfly haircut.
3. Once all sections are curled, gently run your fingers through your hair to loosen the curls and create a soft, tousled effect.
3. How to Style a Butterfly Haircut Using a Leave-In Curl Enhancer?
1. If you have naturally curly hair, you can enhance your curls with a leave-in curl enhancer. 
2. Apply a leave-in curl-enhancing product to your damp hair, scrunching it gently to encourage curl formation. 
3. Allow your hair to air dry or use a diffuser on a low heat setting to maintain the integrity of your curls and achieve a beautiful, bouncy look.
The Takeaway
The butterfly haircut is your ticket to a captivating and fashion-forward look. Whether you prefer a sleek and polished style or a more textured and dreamy look, the butterfly cut offers endless possibilities for you. With the right styling techniques and a touch of inspiration, you'll be turning heads and making a statement with your fabulous new look. So, hop on to your nearest Bodycraft Salon or book an appointment online and let this fancy hairdo work its magic on you. Don't forget to stay up to date with our offers so you get best price for our services.
FAQs related to Butterfly Haircut 
1. Do butterfly haircuts work for thin hair?
Yes, the butterfly hairdo can work for thin hair with face-framing bangs to add a fake-voluminous look.
2. How much does a butterfly cut cost?
At Bodycraft, your desired haircut's price starts from Rs. 1020 onwards. It can vary depending on your hair length.
3. Is the butterfly hairstyle good for a round face?
Yes, the butterfly hairstyle can be flattering for a round face as it adds vertical length and softens facial features.
4. How do you take care of a butterfly haircut?
To maintain a butterfly haircut you should regularly trim the ends to prevent split ends and maintain the desired shape. You should also go for a hair spa once every two-three weeks to nourish your tresses and promote healthy hair.
5. What are some popular hair colour options for a butterfly haircut?
Some popular hair colour options for a butterfly haircut include vibrant pastel highlights like lavender, rose gold, or baby blue, which can accentuate the layered and textured look. Alternatively, bold and contrasting colors such as platinum blonde with black or dark brown roots can create a striking visual impact. Check out the hair colour services available at Bodycraft to find the perfect option for you.