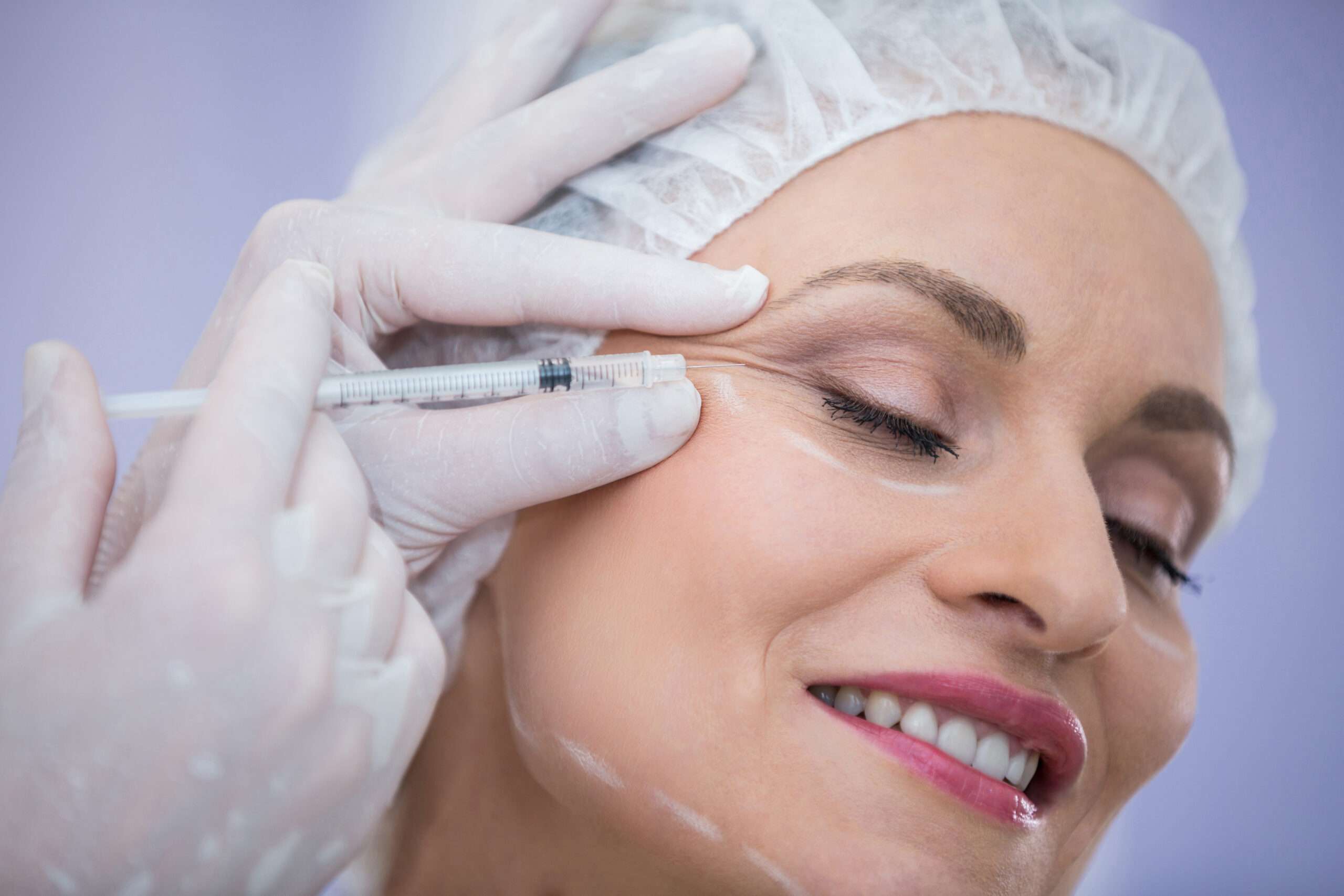 Botox and Fillers are the two treatments in the world of skincare that have gradually gained popularity over the years. Many celebrities in India and abroad have opted for these cosmetic treatments to retain their youth, and enhance their facial features. Are you inspired to try these treatments? If yes, you must be wondering about the difference between Botox and Fillers.
Our experts at Bodycraft Clinic have detailed the right choice for you between Botox vs Fillers. Read on further to understand the procedures and make an informed decision.
What is Botox Treatment?
If you're asking yourself – "what is Botox treatment?", let us answer this for you. Botox is a solution that is injected into the muscles of the face to block nerve signals. This helps in enhancing the firmness of the target area as the muscle remains frozen temporarily. This clinic treatment is ideal for wrinkles on the face.
It can be administered around the following areas,
Between the brows

Outer corner of  the eyes

Jaw 

Chin 

Forehead

Around the lips
View this post on Instagram
What are Fillers?
Wondering what Fillers are ? These are gel-like substances that help to smoothen out fine lines, smile lines and wrinkles on the face. They are injected underneath the skin and add volume to the face. The result is plump, smooth and glowing skin!
Usually, fillers are composed of the following substances,
Collagen

Hyaluronic acid

Calcium hydroxyapatite
Since Fillers can be injected to augment different facial features including the lips, under eyes, forehead temples and cheeks, you can discuss your medical history and skin requirements with our professionals before undergoing this minimally invasive procedure.
View this post on Instagram
Botox vs Fillers: What's the Difference?
Botox vs Fillers – wondering which treatment is ideal for you? Before you understand the differences, you should know that both Botox and Fillers are minimally invasive. This means that they have reduced downtime and do not require surgery to be administered.
Besides this, you can check out the difference between Botox and Fillers below.
Differences
Botox
Fillers
Uses

It can be administered on wrinkles caused by movement in the muscles.

It can be administered on fine lines, creases, wrinkles and parenthesis on the face.

Benefits

Ideal for freezing the muscles. It helps avoid wrinkles caused by facial expressions.

Ideal for the lower face, under eyes, cheeks,

lips

to restore volume and give your face a smoother, contoured look.

Side Effects

It can cause temporary paralysis in the nearby muscles of the target area. It can also lead to pain, bleeding, bruising, swelling, numbness, or redness.

It can cause redness, rashes, itching, small bumps, lumps or minor infections leading to wounds in the skin.

Risks

In rare instances, it can cause headaches, dry mouth and vision problems.

In rare instances, it can cause loss of ability to feel the fillers, death of skin cells or blindness.

Procedure Time

Depending on the target area, 1 session can take around 45-60 minutes.

Depending on the target area, 1 session can be administered under 45 minutes.

Cost of the Procedure

Rs. 350 per unit

Rs. 22,000+ per ml

Efficacy

Lasts for about 3-4 months.

Lasts for at least 6 months.
View this post on Instagram
The Takeaway
Depending on your skin's requirements, the difference between botox and fillers can help address your need for youthful skin. While ageing is a natural process, it is imperative to feel your best at every given point. We are happy to offer our treatment solutions to align with your skin goals.
Since Fillers display more tangible results without curbing any muscle movement on the skin, they are highly recommended by our experts at all leading outlets. After a thorough discussion with our professionals, you can choose the treatment that is ideal for you. Book an online consultation with us today or visit your nearest Bodycraft clinic to speak to our experts.
FAQs Related to Botox vs Fillers
1. How painful are Filler injections?
Fillers are minimally invasive which means that you might witness slight pain or a tingling sensation when the solution is injected in the target area. The pain will subside within a few hours after getting a Filler session.
2. Where can I find the Best Filler Treatment in Bangalore?
If you reside in Bangalore, you can walk in to any of our Bodycraft clinics to get your Fillers appointment. We are widespread across all major locations in the city.
3. What should you not do before getting Fillers?
Before getting Fillers, it is advisable to avoid any facials or chemical peels that may irritate your skin. Additionally, avoid using any topicals like retinoids, AHAs or BHAs as that can interfere with the Filler solution during the treatment. You should also avoid excess exposure to the sun.